Mel from Salisbury, is a part time hairdresser and works in production. She has been treated by Frances Aylen at our Practice in the Orchard Surgery in Wilton.
We sat down with her to find out more about her story...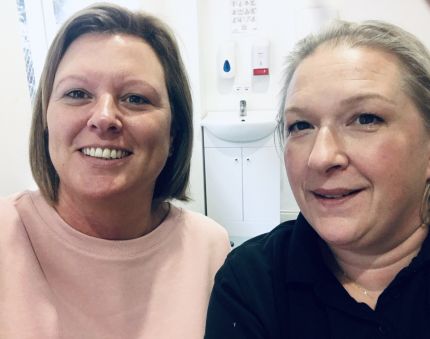 Where was the pain and discomfort?
It was a sudden onset, I was at work and doing a job which involved using an eye piece. I felt my shoulder muscles go into a painful spasm, the pain went up my neck. It also caused me to develop a migraine.  It improved slowly, but a few weeks later, I realised it wasn't going to improve without help.
What made you decide to seek professional help from us here at Not Just Backs?
I have used my health insurance in the past for osteopathy but for a different condition which helped enormously, and after hearing your advertisement on Spire FM, it jogged my memory.
How did Frances initially treat you? 
Very gently!! She slowly massaged the shoulder which seem to relax the spasm and improved my mobility in that area and freed my shoulder. It was still sore but I could feel the improvement. She did a few crunches in the last session but only once the shoulder was much better. 
Did Frances recommend any treatment from a different angle?
Yes, heat and some exercises to do at home.
What do you feel was the most beneficial aspect of your treatment?
Obviously relief from what was a very painful shoulder and neck, but also learning which exercises I can do to help myself in my job, and to seek help with it sooner rather than later.
Is there anything you would like to say to anyone who is thinking about osteopathy?
Don't be frightened, give it a go,  be open-minded but also to do the exercises to help yourself.
If you're currently suffering from back or neck pain and would like to find out more about how our team here at Not Just Backs can help you, get in touch today. You can contact today by clicking here or by calling 01722 512 043.